Chlorinators, Chemical Feed Injection Pumps
Ideal for Swimming Pool and Spa Applications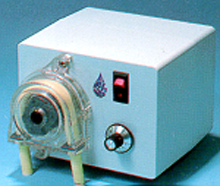 Aquamasters, Inc. carries a complete line of Chlorinators and Chemical Feed Metering Pumps for commercial swimming pools and other applications where a liquid or solution needs to be injected into a system on a timely basis. Each unit has a factory-installed 10-minute solid-state timer as a standard feature. One (1) Year Warranty on Feed Tube Assembly when installed properly.
The Mec-O-Matic Dolphin Pump Series of chemical solution and slurry metering pumps are designed, engineered and built to last. Featuring our exclusive quick-release, twist-off, clear polycarbonate, acid resistant head. Adjustable turn-down pump output control. 25 PSI max output pressure.
Dimensions: 5"H x 6-1/4"W. ETL Approved to NSF 50 (NSF Standard 50).
| | | | |
| --- | --- | --- | --- |
| Part # | Description | Price | Order |
| ChemFeed10 | Chemical Feed Pump, 0-10 Gal Per Day Max | 479.00 | |
| ChemFeed50 | Chemical Feed Pump, 0-50 Gal Per Day Max | 479.00 | |
| ChemFeed75 | Chemical Feed Pump, 0-75 Gal Per Day Max | 479.00 | |
Parts for Mec-O-Matic Dolphin Series Chlorinator Parts

Part #

Description

Each

Order

Photo


MOM-U8800637


Feed Tube Assembly for Dolphin Series Pump, 7/16" OD x 9" Cream Neoprene Peristaltic Head Tubing Kit


29.65


MOM-U0817742
Hose Clamp Only for Inside Feed Tube Assembly

4.95


MOM-U8800456


Foot Valve and Strainer Assembly for Dolphin Series Pump

39.65


MOM-U8800712
Injector for Dolphin Series Pump

45.00


MOM-8800651

Pump Head Assembly for Dolphin Series Pump

119.00



MOM-KUDXX-LSAU

Kop Kit for Dolphin Series Chemical Feed Pump - Includes

1

Cream

Color

Neoprene peristaltic tubing 7/16" OD x 9" long, pump head assembly, 2 tube collars and 2 hose clamps.

119.00



MOM-880043

1


Chlorinator Tubing, 1/4", Suction and Discharge Tubing, per Foot

1.00





Back to Automated Chemical Controllers