Chemtrol Automated Programmable Controllers
Automated Programmable Controllers for Swimming Pools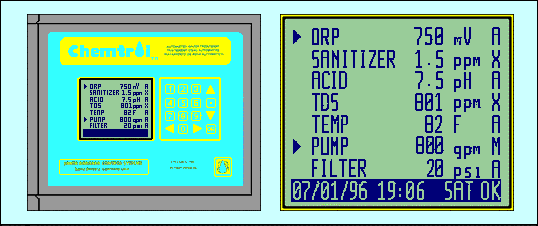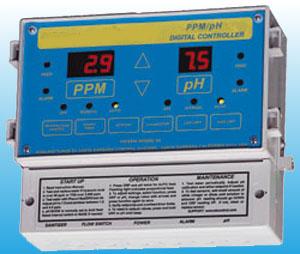 Automated Chemical Controllers for Aquatic Applications. Click on the Links below for More Information.

Imagine a Thermostat on the wall that monitors and controls the amount of heat or cool air in your home. In a similar respect, this is what an automatic chemical controller is. Like a thermostat maintaining a constant temperature, it prevents overfeeding or underfeeding, both of which are detrimental to good water quality.
Water passes the probes that are inserted in the pvc lines of the pool filter system.
When the controller determines when the pool needs more chlorine (which is determined by your "adjustable setpoint", it sends an electronic signal to the chlorine pump.

The same is true for when the controller determines that the pH level needs to change. The controller sends a signal to the chemical feeder for it to turn on.
This is a slow and continuous monitoring (and controlling) of the pool water. It takes the guess work out of water testing and the guesswork of adding chemicals.
Chemtrol 250 PH and ORP Controller
Chemtrol 255 - PPM (True Chlorine Readings in PPM and PH Controller)
Chemtrol PC-2000
Chemtrol PC-3000
Chemtrol PC-6000





Chemical Feed Pumps, Chlorinators
Back to Aquamasters USA Swimming Pool Catalog




Note:
Chemtrol Models 205, 210, 320, and 350 have been discontinued, but Parts are still available.