Wall-Mounted or Post-Mounted Stainless Steel Showers
(Designed for Cold Water or Pre-Mixed Warm Water - Single Source Water Supply)
These Stainless Steel Outdoor Pool Showers have been designed for both Commercial and Residential use. They are great for use as showers for the Beach, Pool, Dock, and to cool off your pet. We have a wide selection of showers well designed residential or commercial setting. Found on yachts, cruise ships, residential & commercial swimming pools, ... From backyards to water theme parks.






CHV (Cross-Handle Valves) Pictured Left (ADA Compliant Push-Button Valves Pictured Right)
PM-250-CHV

PM-500-CHV

PM-750-CHV

PM-250-

ADA

PM-500-

ADA

PM-750-

ADA
Standard Cross Handle Valve

ADA-Compliant,
Slow-Closing Push-Button Valve
Our stainless steel commercial quality pool and beach showers are built to withstand sunny and outdoor environments. We are proud of a superior product that will provide long life and exceptional quality. We are proud to offer the choice for those who desire a cold water shower or a Hot & Cold Water Shower. It's a Great Way to Start your Day, Cool Off, or Rinse before and after entering the swimming pool.
Features:
| | |
| --- | --- |
| | Showers are Constructed of Type 304 Stainless Steel with Chrome-Plated Brass Valves. |
| | Corrosion-Resistant, Rust -Proof, Resistant to Saltwater Environment. |
| | "PM" Models can be mounted to a Post or Wall-Mounted. |
| | Hose Bib Standard - Convenient for filling a bucket of water whenever needed. (#ShowPM250 has no hose bib, no foot bath.) |
| | 1/2" Threads for Garden Hose Connections, Adaptable to 3/4" Garden Hose |
| | Easy Installation (Most completed within an hour) |
| | Available 2-ways: Standard Cross Handles or with ADA Compliant Valves. |
| | Standard Valves have a star configuration. Simply twist the handle for on/off positions. |
| | ADA-Compliant Valves are Push-Button Activated and Slow Closing. Shower sprays water for 15 to 30 Seconds, Then Shuts off Automatically. Time frame is adjustable. |
| | ADA-compliant metered valves - Chrome-Plated Brass. Stainless Steel valves available. |
| | Hose Bibb and Vacuum Breaker - Chrome-Plated Brass. |
| | 304 SCH 40 Stainless Steel Tubing 1/2" X 44" Riser |
| | 304 SCH 40 Stainless Steel Tubing 2" X 40" Base |
| | 2.5 GPM Chrome Plated Brass Shower Head |
| | Hardware Accessories: SS Flex Hose, SS Wall Brackets and Screws. |
"CHV" after the Part Number Designates a Cross-Handle Valve.
"ADA" after the Part Number Designates an ADA Compliant Valve. (ADA-compliant valves shown in the picture below.)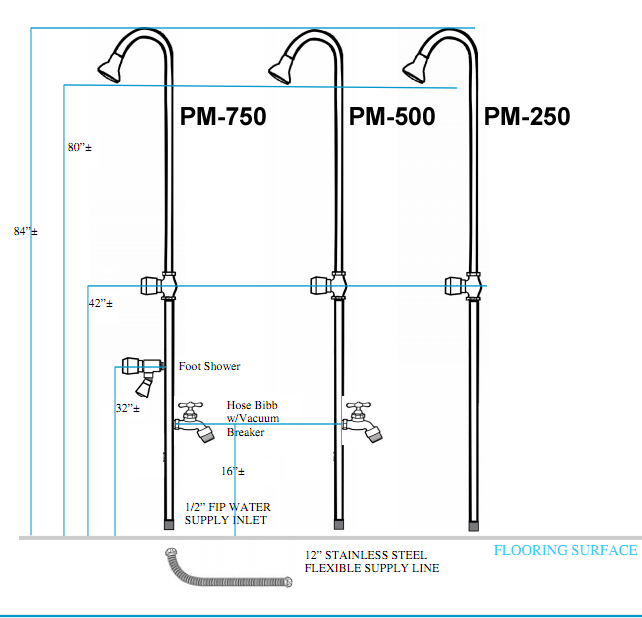 Part #

Description

Each
Purchase
Image
Valve Type
"Shower-PM Series" can be Wall-Mounted or Mounted to a Post.
Shower is constructed of Type 304 Stainless Steel.
Valves are constructed of Chrome-Plated Brass.
SS Valves not included in pricing.



Call for Pricing



410-252-2079




Shower-PM-250-CHV

PM-250-CHV, Post Mounted or Wall-Mounted Stainless Steel Shower with Cross-Handle Valve


1125.00








Shower-PM-250-ADA

PM-250-ADA, Post Mounted or Wall-Mounted Pool Shower, with ADA-Compliant, Slow-Closing Metering Valve

1169.00




Shower-PM-500-CHV

PM-500-CHV, Post Mounted or Wall-Mounted Stainless Steel Shower with Cross-Handle Valves, Hose Bib included


1149.00




Shower-PM-500-ADA

PM-500-ADA, Post Mounted or Wall-Mounted Stainless Steel Pool Shower with ADA-Compliant, Slow-Closing Metering Valve, Hose Bib included

1195.00




Shower-PM-750-CHV

PM-750-CHV, Post Mounted or Wall-Mounted Stainless Steel Shower with Cross-Handle Valves, Hose Bib and Foot Shower included

1429.00

Shower-PM-750-ADA

PM-750-ADA, Post Mounted or Wall-Mounted Stainless Steel Shower with ADA-Compliant, Slow-Closing Metering Valves, Hose Bib and Foot Shower included

1595.00
Showerheads and Shower Accessories


Part #
Accessories - The Above Showers come with a standard Shower Head already. If you wish to upgrade to a larger sized shower head, see below for options:



Price

Image

Buy Here

Optional

Showerheads

Showerhead-SH-DA-6

6-inch Sunflower Shower Head, Chrome-Plated Brass

219.00

Stainless Steel Showerheads

Show

erhead-

SH-GL-

4




4

-inch

Raincan

Shower Head, Stainless Steel Construction



295.00





Show

erhead-

SH-GL-6

6-inch

Raincan

Shower Head, Stainless Steel Construction



375.00





Show

erhead-

SH-GL-8

8-inch

Raincan

Shower Head, Stainless Steel Construction



495.00