Free-Standing, Deck-Mounted Cold Water Foot Showers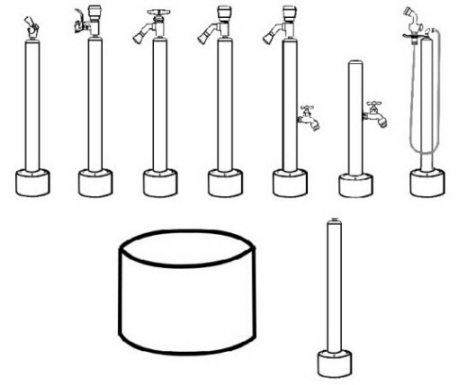 Features:
32" Overall Height

304 Stainless Steel Foot Shower meets Health Code requirements

Corrosion-Resistant, Rust -Proof, Resistant to Saltwater Environment

Ideal Foot Shower to rinse of sandy, muddy, or dirty feet.

1/2" Threads for Garden Hose Connections, Adaptable to 3/4" Garden Hose

(Water Connection Assembly located under Cover Plate - (Cover plate is aesthetically pleasing

Easy Installation (Most completed within an hour)

Can mount to wood or concrete surface.

Flexible Water-Saving Shower Head

Complete with Four (4) anchor bolts, Stainless Steel Base Cover, and Rubber Gromet

Available 2-ways: Standard Cross Handles or with ADA Compliant Valves. (See below)

Standard Valves have a star configuration. Simply twist the handle for on/off positions.

ADA-Compliant Valves are Push-Button Activated and Slow Closing. Shower sprays water for 15 to 30 Seconds, Then Shuts off Automatically. Time frame is adjustable. "ADA" after the Part Number Designates an ADA-Compliant Push-Button Slow-Closing Metering Valve.

Standard Cross Handle Valve

ADA-Compliant,
Slow-Closing Push-Button Valve

- 304 STAINLESS STEEL BODY WITH PLATE
- CHROME PLATED BRASS MANUAL TURN CROSS HANDLE VALVE FOOT SHOWER WITH 1" DIAMETER WATER MISER SHOWER HEAD
- STAINLESS STEEL BASE PLATE
- CARBON STEEL ANCHOR BOLTS (3)
- 1/2" WATER SUPPLY

| | | | | |
| --- | --- | --- | --- | --- |
| Part # | Description | Price | Price | Order |
| ShowFS-200-CHV | Free-Standing, Stainless Steel Foot Shower, Chrome-Plated Cross Handle Valve, 32" Free-Standing 2" Pipe, 6 x 6 Base | Call for Pricing | 410-252-2079 | |
| ShowFS-200-ADA | Foot Shower Only, ADA-Compliant Valve, 32" Free-Standing, 2" Pipe, 6 x 6 Base | Call for Pricing | 410-252-2079 | |
Note: If the shower is connected with a garden hose, it is recommended that you use a white garden hose in order to reduce solar gain.
Note: Factory has changed the bases of ALL floor-mounted showers from a dome base to a cylindrical base with a flat top. This design is sturdier than previous designs.
| | |
| --- | --- |
| Old Style Base | New Style Base |
| | |



Back to Stainless Steel Outdoor Showers