Portable Water Basketball Games
Pool Shot Wing-It
(Model #s WI-711 and WI-1156)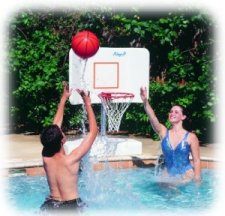 Pack the rugged quality and patented design made famous by the original Pool Shot Varsity into a scaled down version and get the Wing-It. There is one for in-ground pools and another for above-ground pools. Both feature Pool Shot's signature winged backboard, a double wing design that captures errant shots from mid-air and not only keeps them from flying out of the pool, but also returns them towards the shooter. It's like having legendary rebounders Dennis Rodman and Bill Russell on the team! You can even do trick shots off the wings, hit the right spot and swoosh…two points!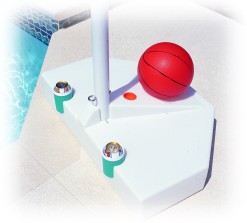 The Wing-It 1156 for in-ground pools stands firm on a rugged, roto-molded polyethylene base. Filled with up to 17 gallons of water (or sand), the base virtually anchors the game to the decking or to the ground. The anti-tumbling design creates a stable platform that keeps the game out of the water even in the face of a ferocious slam dunk. The base is immune to rain, snow, extreme weather conditions and sunlight and can be left outside year-round. Or, empty the water and it's an easy, one-handed move into the storage shed.




Great Family Fun This Summer!
| | | | |
| --- | --- | --- | --- |
| Part # | Description | Price | Order |
| GameBBWing1156 | Basketball Game, Wing it, In-Ground Pool Game, Portable | 425.00 | |