Portable Vacuum System for Swimming Pool or Pond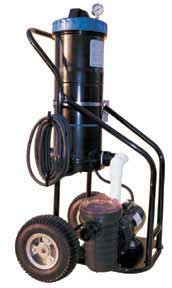 Our Portable Vacuum System is ideal for pools, ponds, and fountains with a large amount of debris. Dirty water goes into the portable vacuum's filter cartridge and clean water goes directly back into your facility's pool, spa, fountain or pond. The cartridge rinses clean in minutes with a garden hose, and you're ready to go again.
The system is perfect for opening and closing pools, this commercial portable vacuum cart comes with a powerful stand alone pump and filter attached to a powder coated steel cart. The Portable Vacuum can also be used as a back-up plan. This system can be used as a secondary pump or filtration system when the existing pump or filter is not operating properly.
Features
1.5-HP, Single Speed, 115/230V In-Ground Pool Pump

Corrosion-Resistant, 6" Trap with strainer basket

150 Square Foot Cartridge Filter

35' of 12-Gauge Insulated Cord

Heavy-Duty Tubed Tires

Rugged Pump Cart constructed of 0.09" wall steel

Powder-Coated Finish

On / Off Switch with GFI
Rid yourself of the hit or miss vacuums and clean your pool, pond, or tank with our Portable Aquatic Vacuum Cleaners. From Start to Finish, our one-of-a-kind filter works independently from the existing filter system.
This system runs independently from the actual pool filter system. Vacuum Hoses, Discharge Hoses, and Spare Cartridges are Optional.
Priced Below. Please Note: Vacuum Systems ship upon availability. Please allow 1-2 weeks to ship the order. Call to check availability.
Part #

Description

Price

Order

VacPortable

Vacuum System, Portable, Includes Pump, Filter with Single Cartridge, Cart Assembly, 35' Cord with On-Off Switch

2125.00

Vac-

Cartridge

Cartridge, Spare, for Vac-Portable Vacuum System

165.00

VacHose50

Vacuum Hose, 1.5" x 50' Hose with Swivel Cuff

98.50

VacHdComm19

Vacuum Head, 19" Commercial, with In-Line Wheels

89.00