18" Low Profile Starting Platforms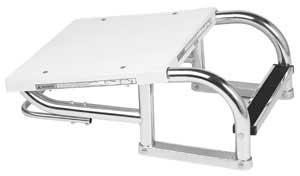 Designed for Training Purposes
| | |
| --- | --- |
| | For Newer or younger swimmers when a higher platform may not be desirable. |
| | Intended for use by experienced swimmers when a lower, more strenuous training platform is desired. |
| | Can be Used for Competitive Swim Meets in Compliance with FINA, USA Swimming, NCAA, and NFHS requirements when installed properly. |
Features:
| | |
| --- | --- |
| | Polished 316L Stainless Steel Frames with Wall Thickness of .065" wall for Superior Strength. |
| | Equipped with One (1) Elite Tread affixed to the frame at a 15*degree angle for ease in mounting. |
| | The 304 Polished Stainless Steel Tread is 3" in Length at the Rail Centerline. |
| | Backstroke Bar is of polished, 1-inch Outer Diameter stainless steel with a wall thickness of .065-inch and bends nominally on a 4-inch radius. This bar attaches to the platform frame by four stainless steel carriage bolts. |
| | Platform Top measures 22.5 x 22.5-inch platform is of laminated fir covered and reinforced by fiberglass to which a non-slip sand coating is applied for sure-footing. The platform attaches to the frame at a nominal 10*degree slope by four stainless steel bolts. To insure compliance with relevant regulations, orders for 18-inch Deluxe Low Profile Starting Platforms must include a statement concerning deck to Water Level Dimension. |
| | Contrasting Beauty, sure footing and secure mounting of the Elite Tread to the frame section is enhanced by a replaceable, black non-skid, Cool-Touch tread insert at the top and caps at either end of the tread. |
| | Platforms Mount to pool's decking surface with Special Anchoring System that Allow the Starting platforms to be moveable, if necessary. |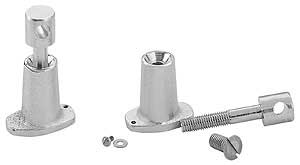 This quick change system consists of two (included) chrome-plated brass Flush Anchors which engage the Anchor Plate. The starting platform mounts directly to the anchor plate by means of two (included) anchor bolts. In addition to permitting the rapid change of platforms (for example from an 18-inch platform to a 30-inch platform), this system also allows removal of the anchor plates to present an unobstructed deck.
Part #

Description

Each

Order

SP18LP-A41795-1

Starting Platform, 18" Low Profile Pre-Assembled, with Anchors

1,489.00

(Customer Must State Deck to Average Water Level of Pool).
Anchors can be shipped in advance with Purchase of Whole Unit.
Items on this page are not able to ship via UPS. Must ship by Motor Freight Carrier.


Back to Deck Equipment for Commercial Pools