Cascading Solar Fountains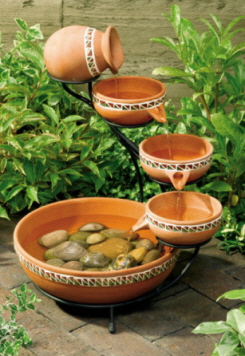 Create an Instant Water Feature & Conversation Piece
in your Backyard, Garden, Patio, Deck, or Balcony.
These self-contained features create a soothing atmosphere with the gentle sound of running water. They are powered by a solar pump and panel that can be placed up to 15' away from the fountain. Water trickles down from the top, from bowl to bowl, and recycles from the bottom through a hidden tube. These beautiful additions are available in a choice of classical and contemporary designs, constructed of a wide variety of natural materials including terracotta, ceramics, and copper.
Installation is Simple. No operating costs. No tools required. Makes a Great House-warming Gift, or Just a Gift for a Friend. :)
Each water feature includes a versatile solar panel mounting kit, which allows the remote solar panel to be positioned in the optimum location. This fountain also includes an AC adaptor so that you can use it indoors.
Hand

-F

inished

& Hand-C

rafted

D

ecorative

W

ater

F

eatures
Self contained –

Very Easy to Install.

No Wires. Easy to Re-Locate

Safe solar powered low voltage pump

Portable

solar panel allows feature to be positioned where desired

- Can be positioned 15' away from the fountain to achieve maximum light.

Includes versatile solar panel mounting kit
Optional AC mains adaptor (for indoor use only)
No assembly tools required
No operating costs

(Rocks not included) - Personalize with your own rocks, shells, mix, etc.

Bowls constructed of Ceramic, Mosaic Terracotta, or Copper

Low Water Sound

Dimensions & Shades vary slightly - Click links below for details.
Solar Cascading Fountain - Green Ceramic Bowls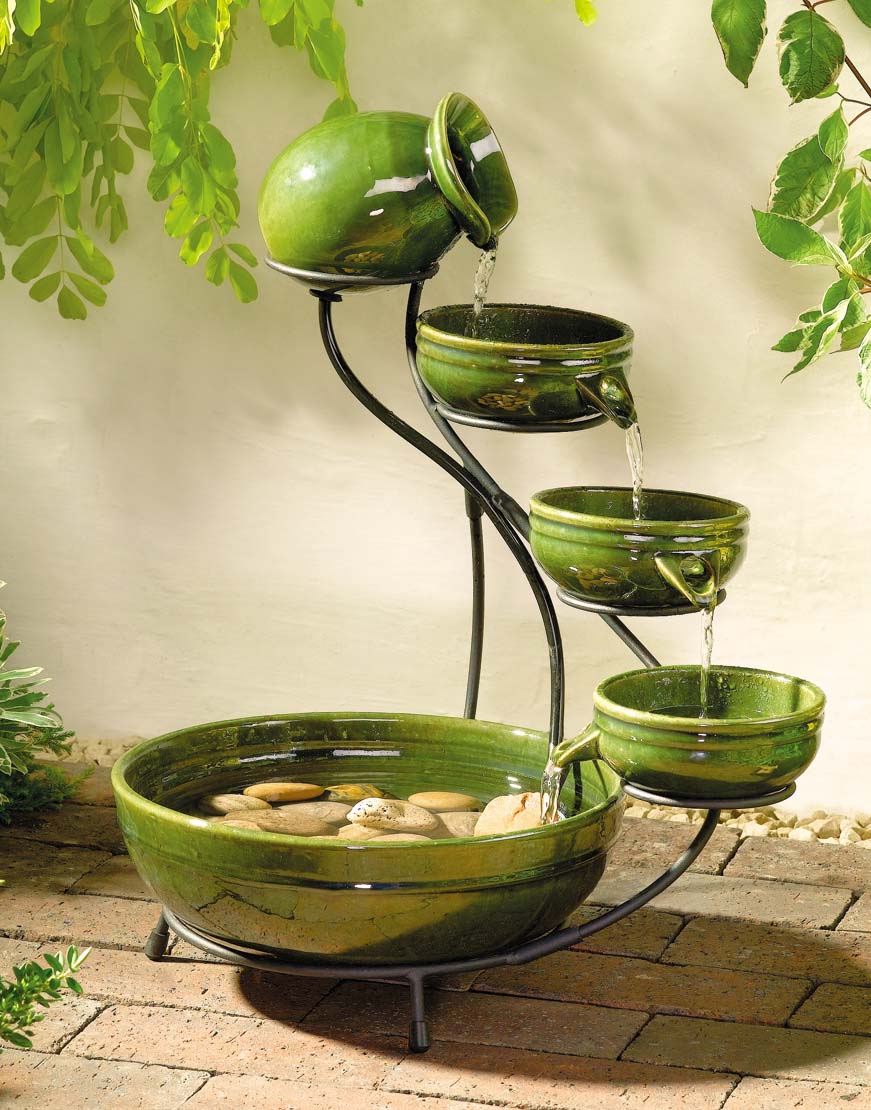 Solar Cascading Mosaic Bowl Fountain - Mosaic Terracotta