Molded Rubber Fish Nets & Trout & Stream Nets

Great for Catch & Release Fishing
Handle Fish without Harming Them. These High Quality Molded Rubber Fishing Nets help Protect the Fish's outer layer. Other nets can actually cause harm to the fishes' outer mucous membranes. Ideal for Fish Hatchery Managers, Aquaculture Facilities, and Fishing Guides. Be Responsible - Every time a fish is put back into the water, it increases the chance for greater enjoyment in the future. Ideal for catch and release fishing, These high-quality, molded rubber nets feature:
• Seamless, hook-proof bags.
• Heavy Duty Construction
• Octagonal tubing for a better grip.
• Sure-Snap extension on telescoping models.
• Yokes allow for the Handle to to slide into the hoop for compact storage.
• Attractive red handles with black yokes, hoops, and bags.
Clear Rubber Landing Nets with Straight Handle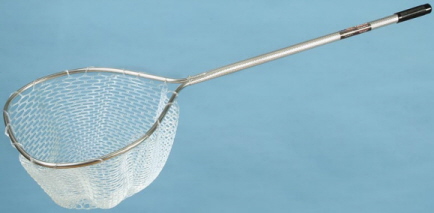 The highlight of this boat net is the transparent rubber netting that offers greater cloaking of the net in the water.

Lightweight Rubber Mesh Landing Nets




Stream & Trout Nets with Rubber Mesh Bag


Boat and Stream Fishing Nets with Rubber Mesh Bags feature a beautiful and strong wood/bamboo frame, a 19" seamless, hook-proof black rubber net bag, and a black elastic cord. Available in Two (2) Different Sizes - Large and Small.





Fishing Nets
Back to Aquamasters USA On-Line Catalog