Low Profile Life Guard Stands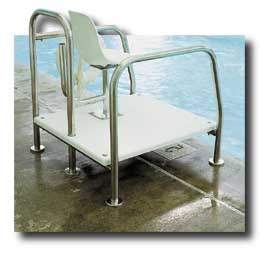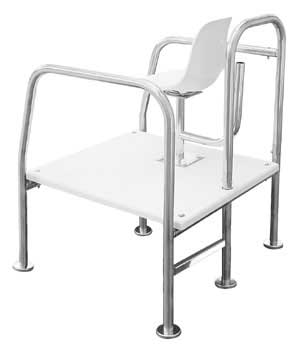 30" off the Deck, Low Profile Lifeguard Stand (Left)
42" off the Deck, Low Profile Lifeguard Stand (Right)
Construction Features
Frames
The frame of the stand is of polished, 1.9-inch (46.3mm) Outer Diameter, 065-inch (1.7mm) wall thickness 304 stainless steel. Bends are (nominally) on a 6-inch (152.4mm) radius. The interlocking sections are joined together to form the frame proper, its five legs and the platform support. The deck below the free-standing lifeguard stand is protected by rubber bumpers (included), which are inserted into each leg.

Observation Platform (Footboard)
The observation platform (footboard) of the Low Profile (Portable) Lifeguard Stand measures 38 x 42 x 1.63-inch (965.2 x 1066.8 x 41.3mm) thick and is a solid laminated fir core covered with fiberglass reinforced acrylic. The platform mounts to the stand by heavy-duty stainless steel hardware. Safety Note: Observation Platforms are not normally intended to serve as diving platforms.

Seat Assembly
The base column of the seat assembly is of 1.9-inch (48.3mm) 304 stainless steel with 065-inch (1.7mm) stainless steel. At the lower end of the column is affixed a .25-inch (6.4mm) carbon steel plate which serves as a mounting flange. This flange is attached in tandem with the Observation Platform to the platform supports. A 1.9-inch (48.3mm) bent stainless steel tube is affixed to the rear of the seat base column and serves as an umbrella holder. At the upper end of the column is affixed a special swivel mechanism to allow comfortable (approximately) 45º rotation of the contoured, low-side fiberglass seat.

Can Also be a Portable Judging Platform.
| | | | |
| --- | --- | --- | --- |
| Part # | Description | Price | Order |
| LGS30LP | 30" Low Profile Lifeguard Stand | 2,495.00 | |
| LGS42LP | 42" Low Profile Lifeguard Stand | 2,650.00 | |
Items on this page are made to order, and Must ship by Motor Freight Carrier (Not UPS).




Back to More Lifeguard Chairs
Back to Aquamasters Swimming Pool Catalog