Apex 2 Ozone Generator
For Residential Pools up to 20,000 Gallons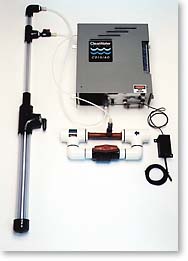 Developed for use in high water flow situations, the APEX Series from ClearWater makes specifying ozone equipment easy. Perfect for residential swimming pools or any water treatment application with a flow rate of between 40 and 100 gpm. All APEX packages are complete, integrated ozone systems that are simple to install. Available in a variety of configurations, each system includes a ClearWater Tech ozone generator, venturi injector and hook-up parts. The corona discharge systems also include a vacuum break for positive backflow prevention and choice of ozone activation interlocks.
The APEX Series II is designed for Commercial Spas up to 3000 Gals or Residential Pools up to 20,000 Gals (Reduce Gallon ratings for heavy bather loads or limited circulation). Includes the CD10/AD Corona Discharge Ozone Generator, Venturi Injection Manifold with Pressure Switch ClearView Vacuum Break, and Installation Parts.
| | | | |
| --- | --- | --- | --- |
| Part # | Description | Price | Order |
| OzoApx2 | Apex 2 Ozone Package | 2,635.00 | |
For Commercial pools and spas, regulations are different. Please email requests to custserv@aquamasters.com

Other Apex Series Ozone Generators
Back To Ozone Generators

Back to Aquamasters USA On-Line Catalog